If you follow some of top travel bloggers like Nomadic Matt or Alex in Wanderland, you might be wondering:
"how on earth do they do such amazing photos?"
Why their pictures look better than the reality while you can barely convince your friends that the place was worth the visit with your shots?
The truth is, that travel photography can be mastered by learning and deliberate practice. It is one of those things that you can get better and better at with practice and experience, but first you need to have some basics.
I loved taking pictures since I remember, so I was extremely happy when my husband bought me my first DSLR camera for my birthday many years ago. I must be honest with you, I was less happy when I came back from my first journey and I saw the pictures I've taken. Most of them was out of focus, the colors were not vivid and in general they sucked!
Somehow I believed that if I had a good camera, I would start taking great pictures. Hmm, I soon learned that unfortunately it does not work this way. I took my camera for few more trips, the effect of which was more or less the same, and at one point I didn't even bother to take it anymore, as my compact mirrorless Canon took better pictures.
What was the problem?
I didn't realize that it is not camera that takes pictures, it is the photographer. And if the photographer does not know the basics, even the greatest camera will not help.
Are you considering investing in new camera in order to take better pictures, or you're just wondering what can you do to improve your game?
Here's the deal:
You don't need to spend a lot of money on expensive camera, to improve your photography.
Start by checking out the
travel photography courses
where you can learn necessary skills and techniques affordably or even for free.
Note: Affiliate links are used in this post. I may receive a small commission at no extra cost to you if you make a purchase through my affiliate link. I only recommend products that I have total confidence in!
Are you already a member of CREATIVELIVE?
If not than join immediately. What's so great about them? Dozens of free photography courses covering various areas, such as:
– How to Capture Landscapes With Your iPhone
– Make GREAT Images With The Gear You've Got
– How to Choose Your First DSLR Camera
Moreover, their free classes cover various creative fields. It's not only photography, but also Art & Design, Crafts, Money & Life, so you can expand your knowledge in few different areas. What's not to like?
If you want something more, CREATIVELIVE offers affordable courses and their travel photography classes have great reviews from thousands of students. The most interesting are:
You don't feel strong enough to start learning specific type of photography and you feel you need some good foundation first? Fundamentals of Photography will get you covered with 107 detailed lessons. You will learn everything from types of cameras, manual settings, light management to photo edition techniques. More than 75 thousand happy students can't be wrong.
You can sign-up for free with this link and just explore many education options of CREATIVELIVE. Enjoy!

Ok, let me just tell you that I instantly fell in love with this platform after taking only one free course – Crash the Composition with Scott himself. What's so great about it? After briefly but clearly going through 5 most common composition rules that you can find in every single photography book Scott goes beyond them giving you the exact actionable steps how to compose great photos.
Most pictures that Scott works on in this course were taken during his travels to Santorini, Sweden, etc. This really helps to understand how to work with composition in real life travel situations and settings.
Some fantastic things you can learn from this free course are:
– working the scene – he gives you exact ideas how to try and find the perfect shot
– practical composition tips
– importance of photo edition
– and so much more..
All you have to do is to register for free here: KelbyOne

Just click on the blue link 'Start for free' on top right of the page and browse through free courses. Yep, it's that easy! I'm sure you're gonna love it!
Once you go through their free stuff and you're ready for more there's whole Travel Photography section where you can find fantastic detailed courses covering: Cityscapes, Landscapes, Travel Gear and Accessories, Wildlife Photography and Post-processing.
If you sign up with this link and use the code KOPLUS10 you will get 10% discount of their Annual Plus plan. Yeey!
      3. PhotoWhoa
This portal has some decent free and very affordable courses both in photography basics and in travel and landscape genres. If budget is your concern, you can try PhotoWhoa, for example: Travel Photographer's Handbook.
If I was to choose only one travel photography course I would go for NOMADIC MATT's – MASTER THE ART OF TRAVEL PHOTOGRAPHY. This 8 weeks comprehensive program is the most robust course on the market, providing lessons, videos, homeworks and photos feedback.
Additional perks include: private Facebook group, interviews with photography experts, updates, webinars and so on. What I especially like about this course is that from the very beginning they claim that taking great pictures does not require fancy and expensive gear. It's your skills that matter most. Moreover, if you don't feel like it's helping you, there's 30 days money return policy. Check it out here.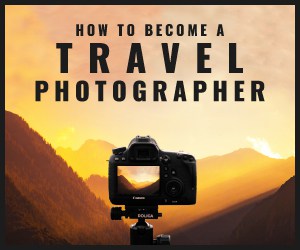 Are you a nature lover and landscapes are your thing? In this case the course by Digital Photography School is certainly for you. If you saw couple of my posts, you probably know how crazy I am about landscape pictures. Photos of monuments or streets are of course important, but it is wast landscapes that will reveal true beauty of the visited place.
What I like about this course:
character and funny, enthusiastic approach of the teacher
it concentrates on all important aspects of taking pictures: preparation, actual shooting and post-processing
it covers various types of landscapes: forest, seascapes, dunes, etc.
60 days money-return policy
Check out Landscape & Nature Photography Course here.
Ok, now a small bonus from me 🙂
6. For the very beginners, who additionally aren't technology experts I prepared easy, no tech-talk tutorial 'Basics of photography with manual settings – explained easy' – which you can download here.
7. One of the most popular posts on my blog – 7 PROVEN WAYS HOW TO IMPROVE YOUR TRAVEL PHOTOGRAPHY AND MAKE PEOPLE MARVEL AT YOUR PICTURES
The thing with travel photography, as with all kinds of photography in matter of fact, is that you need to be curious and continue learning. Whenever I have some free time I search the internet for new people to follow, new ideas and tips. I like to see what others do and compare it with my humble accomplishments. There's always something new you can learn.
—–
I've created Pinterest Travel Photography board, where I save best posts, videos and pictures from travelers and photographers. You can follow it here.
If, you're not using Flipboard yet, I recommend you try it, as there are many good quality articles concerning photography in general and travel photography. You can follow my Travel Photography Magazine on Flipboard here.
—–
So how does it compare to buying a pro camera with additional lenses for few thousand dollars? Don't get me wrong, I'm not saying you shouldn't invest in your gear at all. Just don't make the same mistake that I've made on beginning – get a fancy camera with no idea how to use it.
Start by reading some free tutorials, take a course, and only when you feel confident with your knowledge and new skills start browsing the web for new camera. Your new experience will surely help you choose the right gear too.
And my most important tip – HAVE FUN ! Experiment with your new skills, play with your camera, take many photos even in your hometown while going for a walk. This kind of practice will prepare you for your next travel. You will be happy to see improvement after you come back with your new great travel pics.
Please share this post about free and affordable travel photography courses with your friends.
PIN it for later !