Today you're going to learn about first five steps you need to take to start successful travel blog. Do you love to travel and share your adventures and discoveries with family and friends? Maybe you would like to travel full time and you're searching for something to bring you income on the way? Whatever your reason is, since you are here I believe you are wondering how to start successful travel blog. Fortunately creating a blog have never been easier than now, however there are some things you should consider before you take any action. It can seem quite complicated process on the beginning, but do not worry. We're going to take it step by step. Ok, let's do it then. Let's start your successful travel blog!
1. DECIDE ON A NICHE
Wait a second! Isn't 'travel' a niche already? Yes, it is. But to make your blog stand out you want to specialize further in your niche. In other words, choose a niche within travel niche. Maybe you're a girl traveling on your own? Solo female travel is really trending topic lately. Maybe you are traveling parent? Many people wonder how to travel with their kids, and I am sure you have a lot of tips to share. I love photography, so on theRunaway I share travel photography tips and all things connected with those two topics: travel & photography.
What's the advantage of this approach? You not only can stand out in the crowdy travelers world, but also expand your audience. How?
Check out this post, it helps travelers do better animals pictures during their journeys, but it also helps people who are not travelers, but just want to take better photos of their pets. Got it? Two different types of readers interested in only one post. Now think what could be your niche within travel niche. It could be really anything you enjoy: luxury travel, eco travel, travel with pets.. you name it. It should be something you enjoy, so you could write about it effortlessly.
2. CHOOSE THE HOSTING PLATFORM AND GET A DOMAIN
Allright, so now you're probably considering free or paid service. You're not sure how it's gonna work out for you, so you think let's start with a free hosting and see how it goes. That's exactly what I did when I started with my travel blog first time. To tell you the thruth I started with free wordpress.com service. You may wonder why I say 'I started my blog first time'.. Well, just because I wasn't happy with it and after a year I started it all over again with a paid Bluehost service. There are many reasons why. Travel niche is very visual – just like fashion and beauty. I wasn't happy with what free service had to offer. I'm a bit of control freak, and I like my content to look exactly like I want it to and unfortunately free service has limited customization options.
BLUEHOST hosting
That's why I decided on paid hosting, and if you treat your blogging seriously you should too. First of all you get a lot of design freedom and you can be as creative as you want with your travel blog. Hosting with Bluehost includes free installation of WordPress, which is a content creation platform that gives you endless design options. It is also very affordable. For just 3.95 $ monthly you get your basic plan (which is more than enough on beginning) and it includes free domain registration. Here's what you get with your plan. You can click the picture to learn more.
I purchased the 'choice plus' plan, as I currently have 2 blogs (
here is the second one
if you're curious). I did a lot of research and Bluehost is the cheapest service if you want something beyond basic plan.
DOMAIN
What about domain? Domain can be described as your internet address. It is what people type in the search bar, when they want to access your blog. In case of this blog it is: therunaway.blog. It is quite important that your domain and your blog name are as close as possible, if not identical. Now this is a moment when many new bloggers spend hours and hours thinking how to name my blog, so that it's unique, easy to remember and indicates the mission of my blog. Name of your blog and domain is important, but it is not the main factor determining if your blog will succeed. Please do not overthink this step.I cannot help you choosing your domain, but I can suggest you some popular solutions:
– it can be simply your name or variations of your name: AnnasTravels, WhereAnnaGoes, etc..
– it can be something related to both niches you will cover: WanderingWithCamera, PhotoTraveler, etc..
– it can be something abstract like in my case theRunaway – I am constantly on the way and I have a hard time staying in one place for long. Also at the time I was starting my blog I wanted to run away from the crazy-busy corpo life I had, so there you go – I came up with theRunaway!
3. Choose your social media platforms and reserve your brand name
You certainly don't have to promote your blog on all social media available. It wouldn't be useful, especially on beginning, but you surely want to choose your promotion channels wisely. I suggest that you start with those you feel confident with. Also some platforms go better with certain niches. For traveling niche Facebook and Instagram should be the first choice, as they are highly visual. Check the availability of your blog name on those platforms, and reserve the name, even if you don't plan to use the platform immediately. It's best to use exactly the same name as your blog name, so that your're easily recognised by your readers. You may also want to have consistent design all over various platforms (same colors, same logo, etc.).
4. Make your blog beautiful – work on your pictures
So we already agreed that travel blogging is very visual. First thing people ask about after you're back from a journey are the pictures, right? You want your travel pictures to be unique. You want your readers to fall in love with the place you visited, just like you did. Let's face it, pictures are the essence of a travel blog. I'm pretty sure as a traveler you already take good pictures, but if you feel there's a room for improvement here are some useful links:
3. Now if you really want to take your travel photography to the next level and take outstanding pictures for your blog you may want to consider enrolling in a course by Nomadic Matt –
MASTER THE ART OF TRAVEL PHOTOGRAPHY
. Just take a look at the pictures on his blog. Your doomed to succeed with such images on your blog!
5. Don't forget to create important pages on your blog: about page, contact page and privacy policy.
On about page you can explain your readers how did you start your traveling, what are your favorite places and how your blog can help them in their traveling experience.
Contact page is where you should share all the possible ways how to get in touch with you. How to find you on social media – Facebook, Instagram, Twitter, etc. You can also include contact form, so in case they have any questions or want to complement your beautiful blog your readers could reach you easily from your site.
HOW TO START SUCCESSFUL TRAVEL BLOG
Blogging is a constant learning curve, so it's really important to expand your knowledge and learn from the best. World famous writer and digital nomad Nomadic Matt has fantastic course on Travel Blogging here.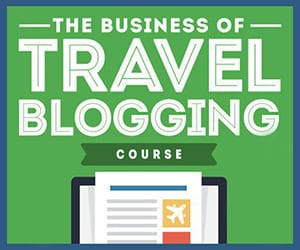 + BONUS: promote your blog on Pinterest
When I mentioned social media in point 3 I didn't say anything about Pinterest, and it's really important platform. BUT, it's not exactly social media. Pinterest is considered more like a visual search engine. And it is very important for a travel blog – we already established that visual part is important in travel blog, right? As a travel blogger you need to be present on Pinterest! People use it to search for many travel related topics starting from destinations and ending with various travel tip. If you don't know how to start using Pinterest as a blogger, check out this post!
Note: Affiliate links may be used in this post. I may receive a small commission at no extra cost to you if you make a purchase through my affiliate link. I only recommend products that I use and love!