The warm sand between your toes and salty bite of margarita are just the memory now. After you tackle the mountain of laundry to settle in with a foamy cappuccino and your laptop, you cannot wait to finally go through the pictures and choose the best ones to share with the world. As you scroll down the snapshots the sinking feeling sets in.. Those are not the same vibrant places that you just visited. The pictures are not even close to what you expected..
We love exploring new places and we love to share our findings with our friends, followers, readers. But how to make sure that they will be as thrilled looking at our photos, as we were visiting the place? Understanding and applying few simple photography rules will take your travel pictures to a whole new level. Whether you are taking photos just for your family album, for Instagram or for your travel blog, if you follow the tips below, you are sure to improve your travel photography and keep the viewers interested in your story.
7 TRAVEL PHOTOGRAPHY TIPS
COMPOSITION
There are many composition rules in photography, some of them more important than the others, but there is one most common aesthetic rule that applies to many fields. RULE OF THIRDS applies not only to photography, but anywhere when images are composed – art, movies, design.. It is best described by visual example, so please take a look at the picture below.
First of all we need to divide our frame by two lines both horizontally and vertically so that we get nine identical rectangles. You get the most appealing composition when you align your horizon with one of the horizontal lines and place your subject on one of the vertical lines (in one third of the frame). See those spots where the lines meet? You may want to position the most important part of the picture in one of those spots.
Any idea how to improve this lovely sunset photo?
Yes, it would be much better if the center of the palm tree was on the top left spot. But you see my point with the horizon? It is on the lower horizontal line. This allows us to concentrate on stunning cloudy sky.
If you still shoot on auto mode you can greatly improve your pictures by learning manual settings of your camera. Grab my free tutorial here.
Take your time and TAKE MORE THAN 1 PICTURE (way more!)
I used to make this mistake that I took one or two pictures of the attraction or a place I visited. When I arrived home and downloaded pictures to my laptop to see them on a bigger screen, I had an unpleasant surprise. Sometimes the main subject was out of focus, I messed up the composition or I just did not like the light. Many, many times I didn't realize that some unwanted element appeared in the background, which I didn't notice when reviewing my picture on the small camera screen.
I know that sometimes while traveling our packed schedule urges us to rush. Especially when we only have weekend in this amazing place and there are so many things to see. In spite of that, I encourage you to take your time. Wait till people pass, try various angles and just shoot couple of times even the same composition. In the end you can always delete repeating or bad pictures later on your laptop. You really don't want to come back home (especially when home is few hundreds or thousands of kilometers away) only to say – Damn, I wish I took one more shot of that… !
I took about 10 almost identical pictures to catch his bird in focus and turned the way I wanted.
PLAN YOUR TIMING
– Again about the time? Yes, but now it is all about when to plan your photo session. I know that usually when traveling we just spend the whole day walking, observing and taking pictures. Well, that's what traveling is. But, if there is any special attraction or place that you really want to take great pictures of, it is better to plan your timing considering two important factors: light and other people.
Nobody likes to shoot under direct, sharp sunlight in the noon. Even less people like squeezing in the crowd and trying to compose the frame without tourist roaming around and sipping on their soda. The best time to avoid all of that is after the sunrise and before sunset (so called golden hour).
If you are anything like me and you like to sleep, you will not be happy to find out that usually it is best to wake up in the morning to arrive at the place at sunrise. Then you will have plenty of time to compose your shots, the light will be nice and soft and you are likely to have all the place for yourself. You can have a lunch and siesta after that and later use evening golden hour to continue your shooting. Win-win situation.
PLAY WITH FOCUS – your first plan doesn't have to be as obvious as you think
If you are photographing a landmark, something that is easily recognizable, you can be sure that there are hundreds of thousands of pictures of it already. What can you do? Try to focus on something else and show the attraction a bit blurred as a background.
You can use beautiful flowers as your foreground, like I did in the Tirta Gangga – famous Water Palace in Bali.
Other examples?
– tables at the bistro with Eiffel tower in the background
– place a nice looking drink in your foreground when photographing beach views or other sea landscapes
Try to NOTICE DIFFERENT THINGS than everyone else in this place.
Focus on details, patterns, colors, people or anything that you find interesting. Sit for a while and observe the surrounding. You are very likely to notice something interesting, something different that all those people concentrated on the main attractions don't see.
CAPTURE LOCAL PEOPLE IN THEIR DAILY ACTIVITIES
All the breathtaking views and famous attractions wouldn't be the same without people living there. Local people are important part of the scenery of every place you go to and it's definitely important to include them in your travel photos. Their habits, cloths, daily activities are usually very different than ours, and that makes it so exciting and interesting.
Try to photograph local people in their normal daily routines, but please be considerate and respectful. It is always best to ask for permission and engage in a small talk before taking a picture. From my experience, they are as much curious about you as you are about them. If you tell them where are you from, tell a story about your place or your journey, there is a good chance that they won't mind you taking couple of shots. Sometimes the conversation is impossible, when I am on my way by bus, taxi or a boat – at least I try to smile and wave (they always smile and wave back).
BE READY – take your camera everywhere and don't miss the chance for a great shot.
I think there is no need for an explanation of this point, so let me just give you examples of the pictures I captured "on the way" to see something, just because I had my camera ready.
I don't even want to think about of all those shots I did not capture because my camera was still in the backpack.
If you combine few of the tips mentioned above you will surely be happy with your travel photography. For example when taking the photo below I followed tip no 1 and 5 🙂
+ NEVER STOP LEARNING
Read photography and editing tips, experiment and follow great travel photographers on social media.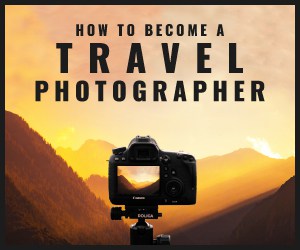 Do you want to master the art of travel photography? This awesome course by Nomadic Mat will take you to the whole new level!
If you enjoyed reading about travel photography tips please spread the love by liking and sharing.
Want to remember those tips – Pin them for later!
Note: Affiliate links may be used in this post. I may receive a small commission at no extra cost to you if you make a purchase through my affiliate link. I only recommend products that I find really useful!